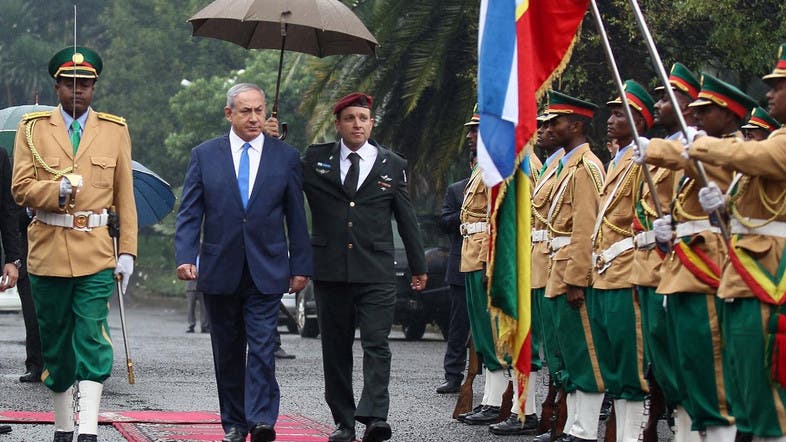 Israeli Prime Minister Benjamin Netanyahu inspects a guard of honor at the National Palace during his State visit to Addis Ababa, Ethiopia, July 7, 2016. (Reuters)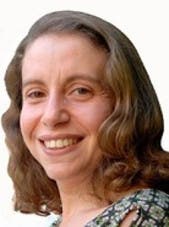 By Sonia Farid
Special to Al Arabiya English
The four-day trip made by Israeli Prime Minister Benjamin Netanyahu to four African countries - Uganda, Kenya, Rwanda and Ethiopia - seems like a normal initiative to boost economic ties, but it was not seen as such in Egypt. Netanyahu was accompanied by 80 Israeli business people seeking to invest in Africa, but the trips' strategic dimension could not be overlooked by the country that is seen as the most impacted by such a step.
Egyptian concerns are triggered by a number of factors, top of which is the fact that all the countries Netanyahu visited are part of the Nile Basin, and Ethiopia's construction of the Renaissance Dam is expected to gravely affect Egypt's share of the river's water.
Journalist Ibrahim al-Shahat says Netanyahu's visits are "by no means normal." Shahat links them to the 1976 Entebbe rescue operation, in which Netanyahu's brother Yoni, then commander of the unit dispatched to free passengers of a hijacked plane, was killed. "Netanyahu chose to start his visit in Entebbe on the 40th anniversary of the operation," he wrote.
"This incident shaped the relationship between Israel and Africa for decades, and Netanyahu is now there to change this image." Shahat says at the time, most African countries viewed Israel as a racist state and supported the Palestinian cause. "Egypt, the continent's leading power at the time [of President Gamal Abdel Nasser], played an important role in emphasizing this image."
Egyptian ties with Africa
Abdel Nasser "was aware of the vital importance of the Nile Basin, and that is why he strengthened ties with its countries. He also supported African independence movements, which further consolidated Egypt's position in the continent."
Shahat says gradual negligence of ties with Africa, starting with President Anwar Sadat and reaching its peak with his successor Hosni Mubarak, paved the way for Israel to seek acceptance in the same countries that had rejected its existence. "Israel is seeking a place in Africa like never before. Netanyahu's choice of four Nile Basin countries to visit, amongst them Ethiopia, forebodes future leverage at Egypt's expense."
Writer and activist Abdel Aal Bahnasi says Netanyahu's visits mark a crucial step in the "water war" Egypt is about to go through, and blames Cairo for giving Israel the opportunity to step in. "Netanyahu did what no Egyptian leader could do for decades. He received the warmest welcome in Africa and gained ground where Egypt could not," Bahnasi wrote.
He said Netanyahu took advantage of Cairo's lack of real effort to secure Egypt's needs of Nile water. "Disputes over water between Egypt and Nile Basin countries are only a manifestation of the never-ending animosity between Egypt and Israel," he wrote. "Israel's initiative to take part in the development of Africa targets first and foremost Egypt's security and stability."
Attia Essawi, an expert on African affairs,
said
. "Ethiopia, where Egypt gets 85 percent of its Nile water, might become even more intransigent in its stance on Egypt's share following the consolidation of ties with Israel. Also, the agricultural agreements between Israel and the countries Netanyahu visited would lead to the initiation of projects that are likely to affect the amount of Nile water that reaches Egypt."
Dismemberment
Essawi said Netanyahu's Africa tour could be part of the "dismemberment policy" that Israel uses "to indirectly weaken a country perceived as a threat to its interests." This policy, he added, is paralleled with the tendency in Africa to forge alliances with countries that can help with aid and development.
"Following Egypt's gradual detachment from Africa after the death of [Abdel] Nasser and the African leaders he allied with, African countries started looking for alternatives. This is where Israel comes in. Israel doesn't only offer financial aid, but also technical expertise, military training and intelligence assistance."
When asked if Israel's ultimate goal is putting pressure on Egypt to have a share of Nile water, Essawi replied: "According to international laws, the water of any river can't go to countries outside its basin unless all basin countries approve. Egypt will never approve such a thing. Sudan won't [either]."
Tarek Fahmi, professor of political science and director of the Israeli Studies Unit at the Regional Center for Political and Strategic Studies, said while Israel could be delivering a message to the Arab world in general, it is delivering a message to Egypt in particular.
"The visit doesn't mark the beginning of ties between Israel and Nile Basin countries, but rather the beginning of making these ties public. Israel has been preparing for this visit in secret for years," he
said
, adding that the strategy adopted by Ethiopia in the Renaissance Dam negotiations with Egypt is designed by Israeli experts. "An Israeli professor named Arnon Soffer led the team of academics and strategists that set this strategy."
Downplaying
Arab League Secretary General Ahmed Abul Gheit dismissed speculation about the negative impact of Netanyahu's visit to Africa. "Israel's main purpose of this visit is to overcome its isolation as a result of its discriminatory practices against Palestinians. Israel wants to market itself as a normal country that is capable of taking part in the development of other countries," he
said
.
Abul Gheit found it unlikely that African countries would prioritize their relations with Israel. "Those countries suffered at the hands of colonizing powers and struggled to gain their independence, so they are not likely to side with Israel."