Sudan's President Omar al-Bashir met with Egypt's Sisi, who sparked outcry after reports that he said he 'considers Sudan part of Egypt'
Egyptian President Abdel Fattah al-Sisi took a brief stopover in Sudan on Friday on his way back from Equatorial Guinea where he was attending the African Union summit.
Sisi spent a few hours in Sudan, conducting "a short visit to hold talks with President al-Bashir", according to Sudan's official news agency SUNA.
'Limited' protest
Social media users reported that "tens" of people had protested in Sudan's capital Khartoum against Sisi's visit.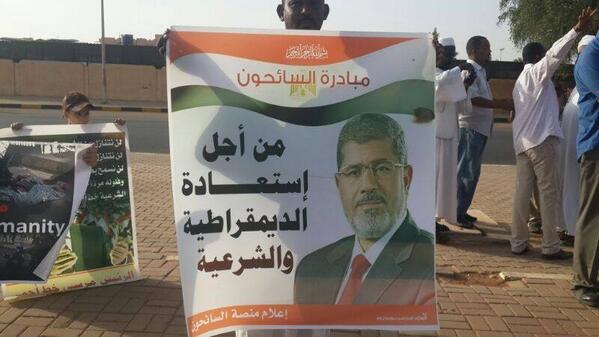 Translation: Limited Islamist demonstrations near Khartoum Airport criticising Egyptian President Sisi's visit to Sudan [Caption: In the name of restoring democracy and legitimacy]
There were also protests at a downtown mosque in the capital, according to a witness who spoke to AFP.
Some of Sisi's comments during his visit provoked fierce outcry, after reports that he had described Sudan as "part of Egypt."
"We consider Sudan part of Egypt, and there are developments in the region that demand co-ordination to achieve shared benefits," Lebanese television channel al-Meyadeen reported Sisi as saying.
However, his visit was welcomed by some opposed to Sudan's leader Omar al-Bashir, who was brought to power nearly 25 years ago after a military coup. Sudan has a complex relationship with the Muslim Brotherhood, with its members making up a large part of the government put in place by a 1989 coup. However, the group was deemed a "terrorist organisation" in Egypt in December 2013.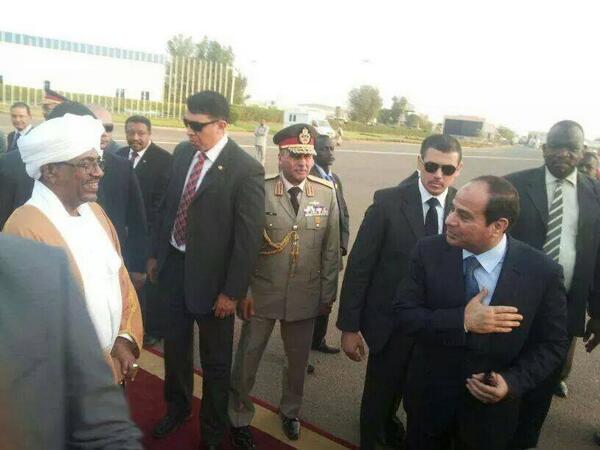 Translation: President Sisi is in Khartoum. May God help you in the path to deposing the Muslim Brotherhood regime in Sudan. Hello and welcome to Egypt's pious president.
Co-ordination against 'terrorist' threat?
Sisi's visit to Sudan could be part of an attempt to build regional links in the face of "terrorism", according to one analyst.
Safwat Fanous, a Sudanese political scientist at Khartoum University, told AFP that, with his visits to Sudan, the Gulf States and Algeria, "Egypt is trying to build a regional alliance to fight Islamic terrorism."
Egypt "would like to see Sudan as part of this alliance in order to isolate Qatar and Turkey, who are...the main supporters of the [Muslim] Brotherhood."
Sudan has strong ties to Qatar, which in April pledged $1bn to boost the country's ailing economy.
However, the link does not preclude an alliance between Sudan and Egypt, which accuses politically-isolated Qatar of backing groups like the Muslim Brotherhood that the Sisi government has banned.
"In politics there are no permanent friends, nor permanent enemies," Fanous said.
"I think it all depends on who will benefit the regime better.
Renaissance Dam
However, another analyst suggested that water could have been at the heart of talks between the leaders on Friday.
Sisi and Bashir discussed a number of topics, "most important among them the Renaissance Dam", according to Hani Ruslan, head of the Sudan Studies Unit at al-Ahram Centre for Strategic and Political Studies.
Ethiopia is going forward with construction on the Renaissance Dam, a project on the River Nile which once complete will be Africa's largest hydroelectric dam.
It has faced stiff opposition from Egypt, which lies downstream of Ethiopia and is concerned that the dam, which is now 30 percent complete, will negatively affect its water supplies.
According to Ruslan, Sudan had until now been "supportive" of Ethiopia's right to build the dam, but since Sisi's accession they have conceded to "look into the issue again."
Egypt and Ethiopia reportedly signed a deal regarding the controversial dam on Thursday as part of an African Union summit in Malabo, capital of Equatorial Guinea.
Details of the agreement were announced in a joint press conference by the Egyptian Foreign Minister Samih Shukry and his Ethiopian counterpart Tedros Ghebreyesus on Friday.
The agreement saw both sides agree to "abide by the principles of international law", according to the text published in al-Dostor al-Asly.
A committee of experts from Ethiopia, Sudan and Egypt was established in 2011 to research the possible impact of a dam sited in Ethiopia on the two states lying downstream.
However, the panel's work was abandoned in January 2014 amid an escalation in tension between Egypt and Ethiopia.
In early May, Ethiopian security personnel arrested three Egyptian nationals suspected of involvement in espionage near the sites of the Renaissance facility and a dam on the Baro river, which feeds into the Nile.
- See more at: http://www.middleeasteye.net/news/egypts-sisi-and-sudans-bashir-meet-amidst-controversy/167486170#sthash.EmgZ8VAm.dpuf